We all know that saying….that you change the most when you are out of your comfort-zone.  Well….I wholeheartedly believe it and while it's been painful sometimes (ok, maybe a lot of times) to be outside of my comfort zone [traveling and living in other countries, going to school, starting a new job and sometimes just meeting new people….], I grow exponentially outside of my comfort zone when compared to when I'm just coasting inside of it. I have to be intentional about staying outside of my comfort zone so that I can continue to grow. God constantly helps me with that….. I'm always a work in progress.
I think it's the same for kids.  In order to grow, they need to be outside of their comfort zone. It's why schools and organizations host field trips.  To expose children to things that they might not otherwise see and allow them an opportunity to grow. I'm a HUGE supporter of getting kids out and about….to see things they haven't before. I take my Goddaughter to musicals and parks in uptown and take kids from the Dream Center to musicals, Knights games [see photo above!], dinner with my parents, etc.  Whatever is in my schedule, I'll try and tack on a kid or two.  My family and friends have come to expect that I might have a little with me.  It might cost me a little more financially and in time resources to go get the kids, but the impact to that child is worth so much more. Not only do I get to spend time with these kids and show them how much Jesus loves them, but they get to see life beyond their bubbles.  See how things can be different for them.  Expose them to things that they might become passionate about….art, music, sports, etc. And hopefully, allow them an opportunity to grow.  In their knowledge of self and their knowledge of how much Jesus loves them.
In the broader context of Charlotte and in finding ourselves a very divided city, where one could do life without ever experiencing life outside of our bubbles, I think that there has to be significant intention…. to get out and do life outside of our bubbles.  It's important that kids [and adults] are exposed to life inside AND outside the crescent [if you don't quite get what I'm referring to, see the map below.]  There needs to be mutual exposure in how we are all living. It's not just kiddos from the less wealthy neighborhoods who need to be exposed to what else is going on in Charlotte, it's kiddos from the wealthy neighborhoods who need to be exposed to life beyond their castles [ok, I'm getting a little snarky….I'll back off.]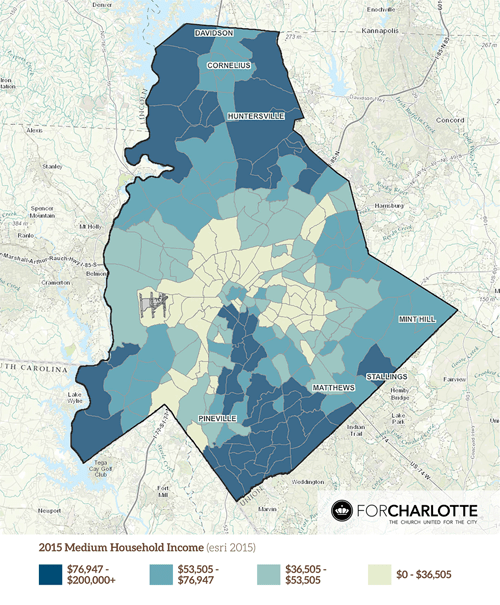 This map shows our different neighborhoods of Charlotte (and the "crescent")…..and demonstrates the disparities in different parts of our city.  If you want to see even more breakdown, check this out: https://www.opportunityatlas.org/
The answer isn't to have an all light blue map (although that wouldn't be a bad color – light blue is the best blue – Go Heels!). The answer is to get people from the dark blue areas of our city to experience the lighter colored neighborhoods and vice versa. It gets people of all ages and socio-economic statuses out of their comfort zones.  It expands our horizons. It opens us up to other worlds. It creates opportunities for growth.  It provides an opportunity to share hope to the hopeless across the entire city. And isn't that want we want across all socio-economic statuses?  Hope?  
Could you grow more? [the answer to that is always yes, btw]  Are you being intentional about living outside of your comfort zone?  Could you help expose a child to life outside of his/her bubble? Get on it. Do it. Grow. And then be rewarded in having acted, shared life and likely gained hope….for others and for yourself.